HERE @ Farrer Park is a creative event space that is nothing like you have ever seen, designed to create an unforgettable experience for everybody. With intricate design features such as an indoor glasshouse cafe, 3D-art feature walls and fully-customizable mood lighting, there are plenty of IG-worthy spots so start snapping away! Rock a mini-concert on the elevated stage, dive right into the ball pit or shoot some hoops to relieve some childhood fun!
Ballpit *additional charges

Bar counter with chiller/freezer

Wall murals

Indoor Glasshouse

Recreational room with console games

Basketball machine
Overhead projector

Amplifier & microphones

Fibre broadband WiFi

Microwave, water boiler, refrigerator, tableware & cutlery

Brunswick 8ft pool table

Gaming consoles (PS4)

Mahjong table,

 f

oosball table, b

eer pong table, b

oard games, Basketball machine

Whiteboards and flipcharts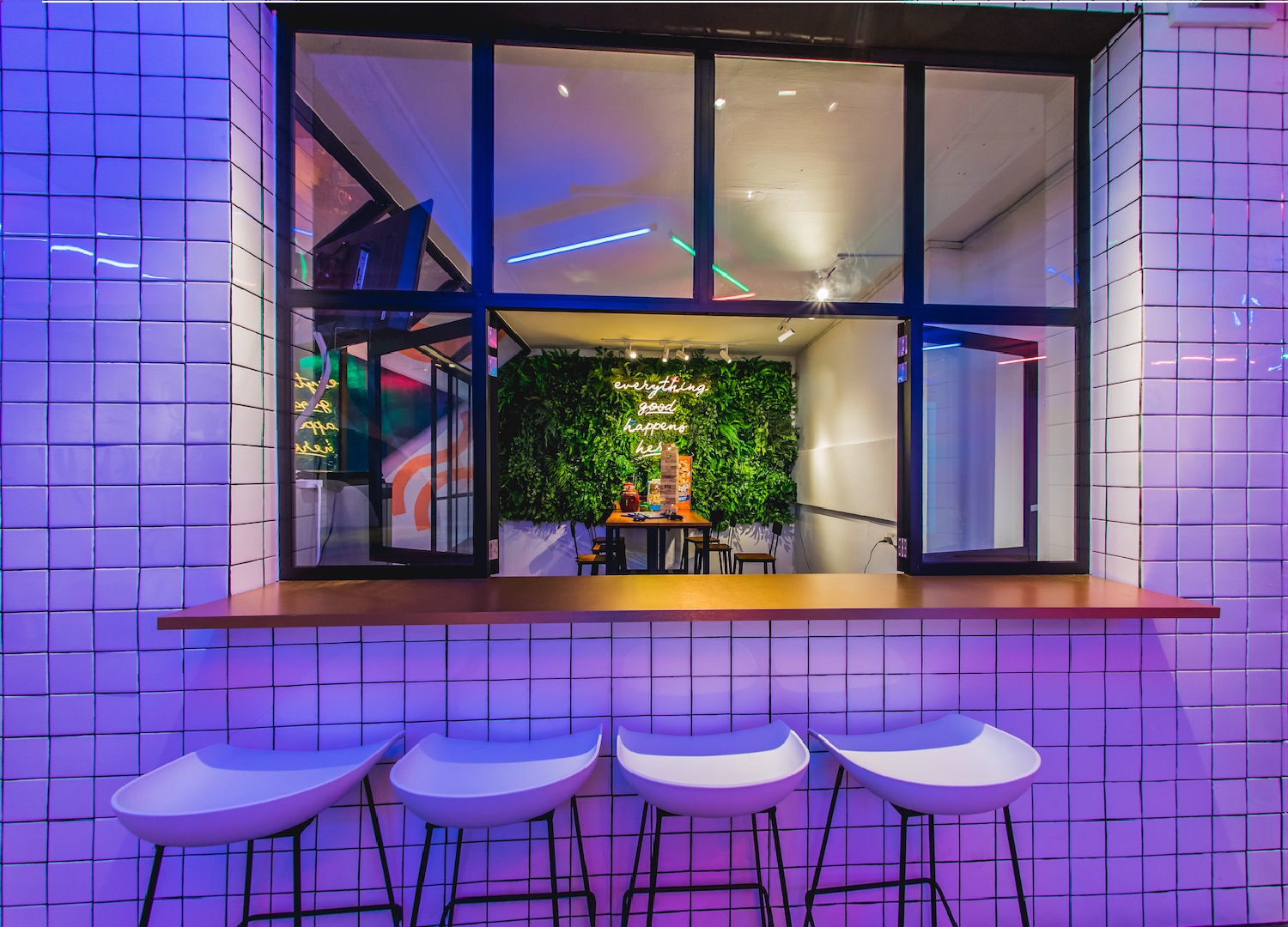 F&B Catering

Photobooth

Professional team-bonding programme

Decoration setup (balloons/florist)

Cakes & pastries

Photography

Entertainment/Emcee
IMPORTANT NOTES:
Our venue has a no-shoe policy (For more details, please enquire with our sales representative)
A refundable security deposit will be collected before your event
Please note that bookings are by first-come-first-serve basis. Booking is only confirmed when payment has been made.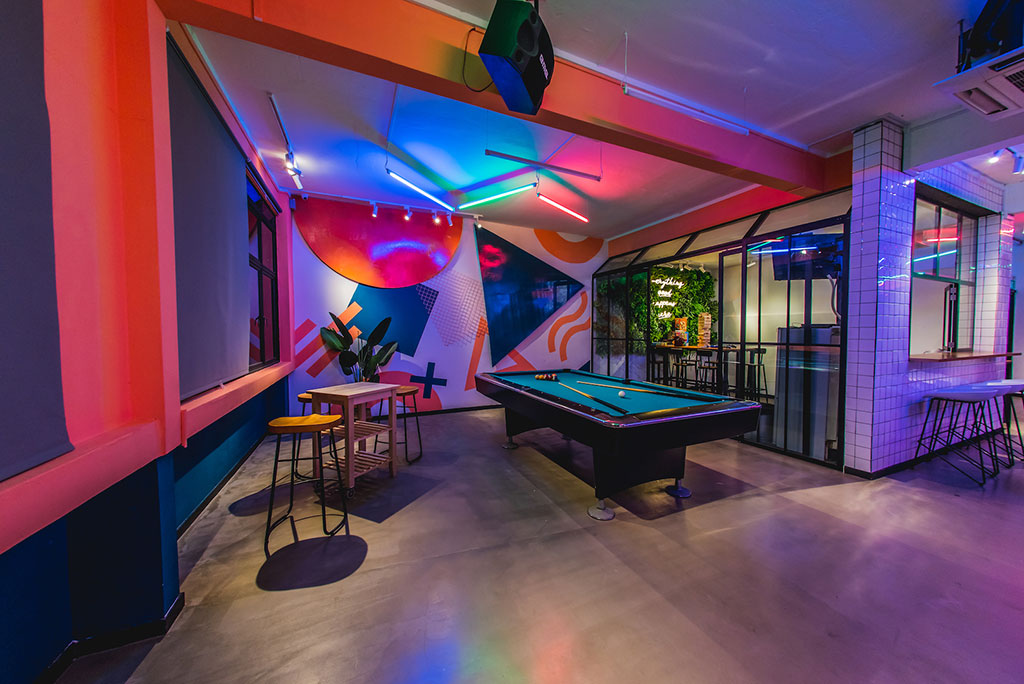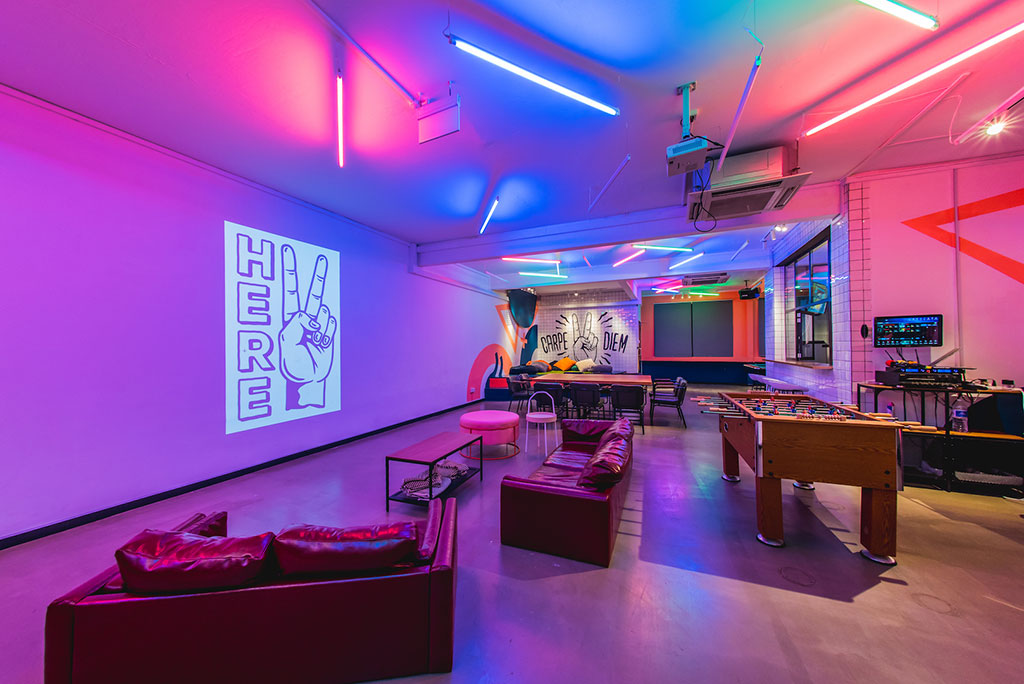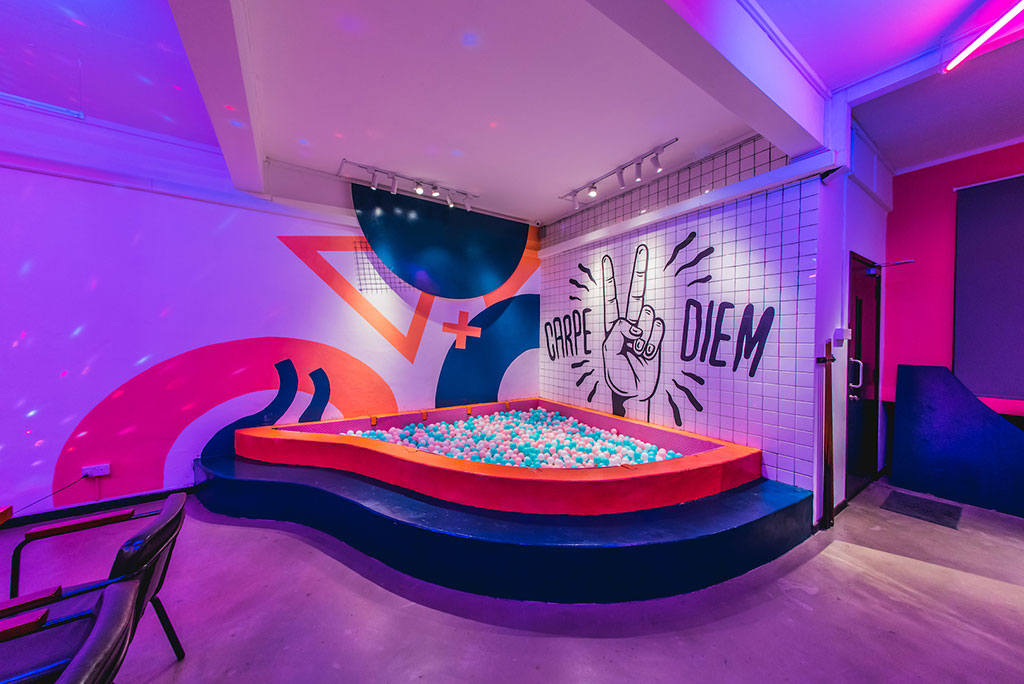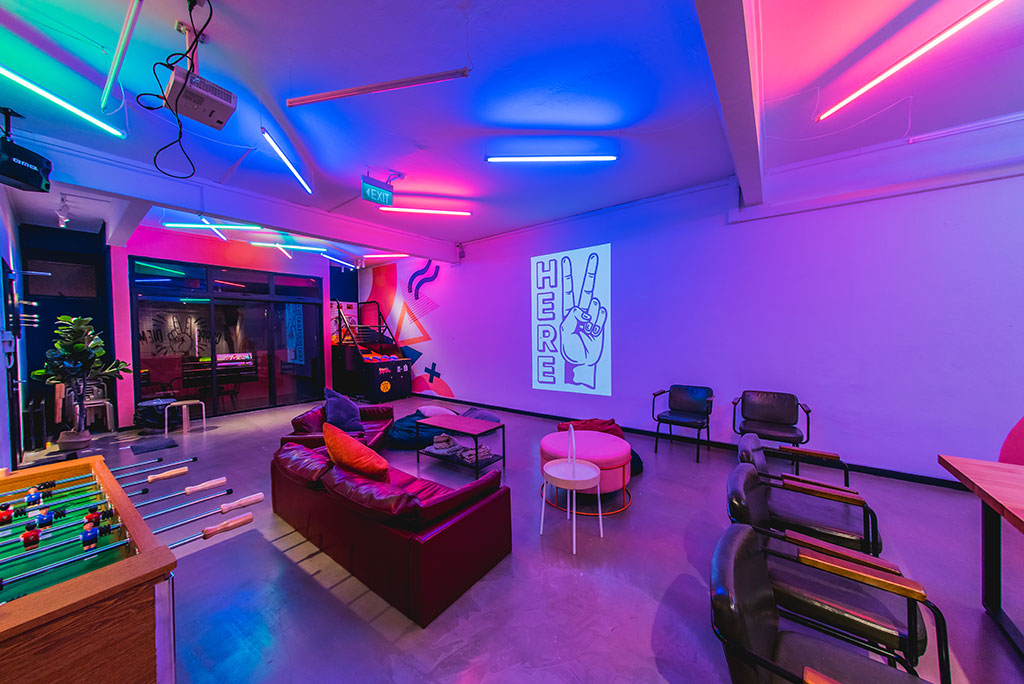 Held a few workshops at this space and the youths loved it! The space manager is really helpful too and came by to help us a couple of times when we ran into some tech issues.

Elisa Goh


March 19, 2021

Fantastic space for events and cool down time for the team, Ms Lili is exceptional for assisting to facilitate the event space, will comeback for more events.

Azmir Deville


November 7, 2020

I had a small group gathering at Here.SG and my guests had a blast at the venue. The staff is also friendly and responsive and I had a great experience. Thank you l!

Grace Tye


April 19, 2021

We just had our anniversary event there last night. It was a great place to entertain our wide range of guests as there were many activities to keep them entertained through the night, especially the karaoke system.

Esther Tan


March 2, 2019

Amazing experience. Lili was super helpful and clear with the bookings and rules and regulations. Highly recommended and even my guests had an amazing time there too! 5 out 5 for this space! Looking forward to book again! 🙂

Sharul Rafizi


June 26, 2022

A really great event space. LiLi was super helpful, everything went smoothly with the booking and she even helped to pick up my deliveries that arrived before my assigned time slot. Had an amazing time.

Teng Qianya


December 7, 2020

Booked here.sg to run a workshop and it was really great! There were so much spaces to work with and we could break down into many small groups with enough tables and chairs for all. The decoration is really youthful and inspiring and liven the whole mood. Really recommended!

Teo Xin Yu Ruth


January 30, 2021

Awesome venue to hold ur parties & events! This place have literally everything u need to keep the fun going and have ur friends/guests entertained the entire time! It's amazing that they even got a basketball shooting machine over there! Facilities are great and the staff are very helpful and accomodating!

Hwee Ling Chou


February 21, 2019

We held a team building event HERE and had such a great time. Thanks for such an awesome space. We are definitely coming back HERE. All of us loved your ball pit and everyone was just queueing to take their insta worthy photos there! https://www.instagram.com/p/BxWU4vjnaeU/?utm_source=ig_share_sheet&igshid=16ns1ylwbcz95

Marc Tan


May 12, 2019

I love this venue so much! They have so many forms of entertainment to cater to all age groups. All the kids had fun with the ball pit, basketball and foosball table! Adults also had so much fun with the karaoke, pool table etc. My aunties even got to have a game of mahjong there! Spacious and clean. Basically everything exceeded my expectations and the money was so well spent. My daughter had an awesome 1st birthday party thanks to Here.SG! 🙂

Karen Tan


August 25, 2019

Lili was the lady I had liaised with and it has been a pleasant experience at Happen. There were some technical issue but Lili was a problem-solver and helped to smoothen all processes so that my company event could run smoothly. She's very accommodating and helped me as much as she could to make sure we enjoy ourselves! It's a cosy and no-frills place for simple company event! We had fun!

Esther Lin


January 15, 2020

Great place to host party/gathering. All my guest was so impress by the setup. Definitely will recommend here.sg to all my friends. Lastly, the host is really helpful and friendly.

Gavin Yong


February 21, 2019

Nice setup for my corporate event, place is spacious and filled with amenities. The host was also accommodating to our requests. Will definitely recommend it to everyone and be back HERE again!

Jeremy Chua


February 26, 2019

Hosted my girl 21st bdae, relatives and friends ❤ Here.SG. We searched few venues but choose Here.SG for it's centralise location with ample car park lots. There are Entertainment for the young and old and Ivan was helpful and friendly too. Definately will recommend this venue for events and gathering.

Cindy Lee


March 26, 2019

Had a good experience with our private event. The place is cosy and comfortable filled with in-house amenities. LiLi was a friendly and helpful host. Definitely will recommend this place! 😊

Choon Siew Hui


September 6, 2020

The venue is not ideal for large crowds (>50pax) as i) the sound system is erratic (mics automatically turn off after 10s), making it almost impossible to communicate with your audience; ii) the air conditioning is considerably weak, making it quite stuffy from time to time; and iii) insufficient water and toilet facilities to meet the needs of my guests. Hosted an event there two weeks ago and was quite disappointed by the experience - especially the sound system, a huge damper for the organisers and the large crowd that was present.

Ryan Elijah Tan


February 25, 2019

This place was Super homey and spacious. LiLi was a great help in helping to coordinate the event. The facilities there are well maintained and the venue was clean. Would host a event here again

WeiXian Lee


January 22, 2020

Awesome event space with great ambience and also a very good place to host kids birthday party. Very spacious even after having different games gadget and karaoke system. Will definitely recommend this place and also wouldn't mind booking again for future event. Lastly, a very nice and helpful sales executive, Lili, who is able to reply promptly, answer all your enquiry and also able to provide help and solution when you face any problem on the event day.

JJ Sng


August 8, 2022

Ivan has been very helpful and accommodating. All my guests enjoyed the venue and facilities when I held my twins 1st birthday there. It is an awesome venue!

Lena Loo


June 5, 2019

This place is huge with all the great amenities for a hassle free get together. Be sure to snap a shot at the insta worthy ball pit area, at least that was what all my friends did for the both times i rented the venue. They provide efficient food solutions to cater to large groups too, my friends and I were kept full by the huge portions of food catered to us. Ohs Farm Highly recommend!

Tan Jia Min


February 26, 2019

Great place to host your private functions or event. Will definitely be back again! Thank you for the warm hospitality Here.SG!

Shawn Koh


February 26, 2019
576A SERANGOON ROAD
SINGAPORE 218190
—
Call +65 88928301  or  

WhatsApp us